The Dirty Little Secret of Security Breaches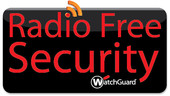 Every week it seems like there is another major data breach… so what's the deal? Are attackers getting more sophisticated; Is malware more sneaky; Or are people just not protecting themselves? That answer is probably simpler than you think. In this month's episode, we uncover the secret of data breaches, share the latest top security news, and even highlight a new WatchGuard XTM appliances feature. If you're passionate about security, you'll feel right at home, so listen in.
Radio Free Security (RFS) is a monthly audio podcast dedicated to spreading knowledge about network and information security, and to keeping busy IT administrators apprised of the latest security threats they face online. If you're looking for the latest security news and best practice tips, this show is for you. So grab a seat, relax, and enjoy the show.
October's episode includes:
The Security Spotlight [4:08 - 44:18] - The Dirty Little Secret of Security Breaches. 2011 was the year of breaches, and attackers haven't let up this year. With so many network and data breaches we have to ask ourselves, "what are we doing wrong?" During this month's Security Spotlight segment, Ben Brobak and I propose a basic answer to that question, and more importantly, share six firewall policy best practices that will make your organization more resilient against network attacks. If you want to get the most out of your firewall or UTM appliance, this segment's for you.
WatchGuard Wire [45:05 - 52:44] - Introducing RapidDeploy. Does your organization have remote offices or mobile users? Would you even call yourself a Distributed Enterprise? Or, are you a Managed Security Service Provider (MSSP) who handles hundreds of customer firewalls? If so, WatchGuard's new RapidDeploy feature will save you money and make your life a whole lot easier. In this segment I interview Product Manager, Johnni Aguirre, about an upcoming XTM appliance capability that should excite anyone with remote devices.
Security Story of the Month (SSotM) [53:35 - 1:46:00] - During September's SSotM segment, Richard Gilmour, Chris Shaiman, and Corey Nachreiner highlight the most concerning security stories and incidents from the month. Topics from the segment include accusations of cyber espionage, a new nation-state sponsored APT threat, and a couple old-school attacks that still can have serious ramifications. During the talk, we decide which issue will have the greatest affect on the industry, and what you can do about all of them. For a recap of October's top security news, and some defense tips, listen in.
You can always find the latest episode of Radio Free Security at:
Or just listen to October's episode using the player below [runtime: 1:49:05].
Download: rfs1012.mp3
— Corey Nachreiner, CISSP (@SecAdept)
Published with permission from WatchguardWire.
Source.