WatchGuard's 2013 Security Predictions Unveiled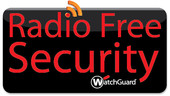 Radio Free Security (RFS) is a monthly audio podcast dedicated to spreading knowledge about network and information security, and to keeping busy IT administrators apprised of the latest security threats they face online. If you're looking for the latest security news and best practice tips, this show is for you.
Love 'em or loath 'em, security predictions have become a pretty regular part of the holiday season. Personally, I believe they contribute value to the information security (infosec) industry. After all, at their core, predictions are based on real industry trends; pundits and analysts (like me) just like to wildly extrapolate those trends to make them sound fun and entertaining. However, the true point of predictions—well, my true point anyway—is to educate and spread awareness. Hopefully, talking about these potential security issues can prepare you to avoid them before they happen to you.
A few weeks ago, you heard the Radio Free Security (RFS) co-hosts and I go over our 2012 security predictions, to see how we did. I'd say we earned a C+. During this month's episode, I'll see if I can score better by unveiling my 2013 security predictions to the same team. I purposely kept my annual forecasts from them until this recording, just so you'd get their honest, gut reactions. Do they whole-heartedly agree with my foretellings, or scoff at my foolhardy imaginings? Listen in to find out.
To give you a hint of what you're in for, the predictions cover topics such as life-threatening hardware hacks, mobile device pick-pockets, cyber strike-back, zombie browsers, and much more. Whether or not our specific predictions come true, the episode explores many real infosec trends that everyone, from the smallest consumer to largest enterprise CSO, will face  in 2013. At the very least, I suspect my predictions will prove a little more accurate than the ancient Mayans' one about December 21, 2012 (hope I don't eat my words).
So, grab your favorite holiday beverage, get comfortable, and settle in for Radio Free Security's final 2012 episode.
Note: Due to the seasonal sniffles, our web team cannot post this episode to its normal feeds until tomorrow. For now, you can download a ZIP version of the episode, or listen to it using the player below. The links to RFS's normal locations will be updated shortly.
[runtime: 2:02:56]
Download: rfs1212.mp3
You can always find the latest episode of Radio Free Security:
— Corey Nachreiner, CISSP (@SecAdept)
Published with permission from WatchguardWire.
Source.