The advanced notification results are in, and it's looking good for Patch Day.
Next Tuesday, Microsoft will release nine security bulletins, two of which the Redmond-based software company rates as Critical. The bulletins will fix flaws in Windows, Internet Explorer (IE), Office, and some of Microsoft's server and security software. As usual, they haven't shared many details yet, but some experts expect the critical IE update to fix the zero day vulnerabilities disclosed at CanSecWest's recent Pwn2Own contest. Either way, I expect the IE flaws to pose the greatest risk to most users, so you should plan on applying that patch as quickly as possible.
While nine bulletins may sound like a lot, it's pretty average for Patch Day lately. Nonetheless, you should prepare your IT staff for a busy day of testing and patching next Tuesday. We'll know more about these bulletins next week, and will publish alerts about them here. — Corey Nachreiner, CISSP (@SecAdept)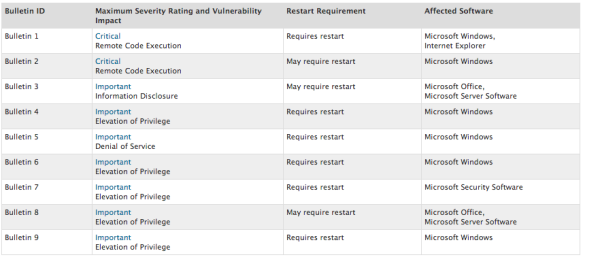 Published with permission from WatchguardWire.
Source.